Posts for: April, 2013
By Northside Family Dentistry
April 20, 2013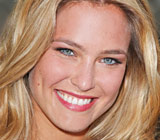 Let's say you happen to be sitting on a plane next to supermodel Bar Refaeli, who was recently voted #1 on Maxim magazine's Hot 100 list. You're a little nervous, but you want to make a good impression. What's the first thing she's going to look at? Your expensive suit? Your sculpted torso? How about — your smile!
"Teeth are the first thing I look at," explained the glamorous cover girl in a Maxim interview. "A nice smile with beautiful teeth is the most attractive thing."
We wholeheartedly agree. But, of course, not everyone is lucky enough to be born with a perfect set of teeth. What to do then?
"Let's just say that with today's orthodontists, I don't understand why people wouldn't fix them," Refaeli stated. Need we say more?
The Israeli supermodel, who has appeared in several Sports Illustrated swimsuit issues, knows what she's talking about. Refaeli started modeling as a young child, but had to put her career on hold for a few years while she got braces. When they came off, at age 11, she began her steady climb to the top of the modeling business.
Plenty of aspiring actors and models — as well as regular folks — get braces as children. But if you're serious about improving your smile, it's never too late to have orthodontic treatment. For adults, there are many options available in addition to the standard metal appliances.
Colorless ceramic braces offer a less noticeable way to correct misaligned teeth. Made of high-tech materials that resist staining, their translucent appearance blends so well with the look of your natural teeth that it can be hard to tell you're wearing them.
Clear aligners are an alternative to braces that are worn 20-22 hours per day. They consist of a series of precision-made, transparent "trays" that gradually straighten your teeth over a period of time. Best of all, you can remove them for special occasions — like meeting a supermodel.
Which type of orthodontic treatment is best for you? Why not come in for a consultation and find out! Working together, we can evaluate your situation and develop an effective, individualized treatment plan that fits your lifestyle.
If you have questions about orthodontic treatment, please contact us or schedule an appointment for a consultation. You can learn more in the Dear Doctor magazine article "Orthodontics For The Older Adult."
By Northside Family Dentistry
April 04, 2013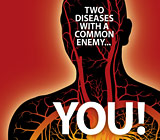 The increasing rates of obesity and diabetes in Americans have been getting a lot of attention lately. Most people know that the two are clearly linked. But did you know there's also strong evidence of a link between diabetes and gum disease?
Both diabetes and periodontal (gum) disease are chronic inflammatory conditions. That means they are disorders that develop over time (chronic), and are characterized by problems with a function of the immune system (inflammation). In diabetes, problems with the hormone insulin lead to abnormal levels of sugar in the blood. This can bring about a number of complications which, if not treated, may result in kidney failure, coma and even death. In many people, however, it's a condition that can be managed with drugs and lifestyle changes.
You may not think of gum disease (periodontitis) as a serious illness. But here's something you should know: If you have diabetes, having gum disease is a risk factor for worsening control of blood glucose levels, and may also increase the risk of complications. Likewise, having diabetes puts you at greater risk for developing more severe forms of periodontal disease.
What is gum disease? It's actually a group of diseases caused by many types of bacteria in the mouth, which affect the tissues around the teeth. Initially, it often causes swelling and redness of the gum tissue. Left untreated, it may result in bone loss, abscess formation, and ultimately the loss of teeth. But its ill effects aren't limited to your mouth.
Periodontal inflammation is associated with a higher systemic (whole-body) inflammatory state. That means it may increase your risk for cardiovascular diseases like heart attack and stroke, and adverse pregnancy outcomes — as well as complicating the management of blood-sugar levels in diabetics.
Now, here's the good news: Treatment of periodontal disease which reduces inflammation has a beneficial impact on the inflammatory status of the whole body. For people who have both diabetes and periodontal disease, that means that periodontal therapy can lead to improved blood sugar control.
How do you know if you have periodontal disease? Bleeding gums and bad breath are both possible symptoms, as are redness and soreness of the gum tissues. But these warning signs may be masked by any number of other factors — or may not be noticed at all.
The sure-fire way to diagnose and treat periodontal disease is by getting regular dental checkups, followed by specialized periodontal treatment when necessary. If you presently have diabetes, or may be at risk for developing the disease, those check-ups and treatments are even more important.
If you have concerns about diabetes and gum disease, please contact us or schedule an appointment for a consultation. You can learn more in the Dear Doctor magazine articles "Diabetes & Periodontal Disease" and "Understanding Gum (Periodontal) Disease."