Posts for: June, 2013
By Northside Family Dentistry
June 27, 2013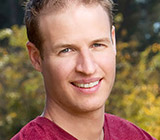 If you follow the hit TV reality show Amazing Race, you know that professional-hockey-playing brothers Bates and Anthony Battaglia won the $1 million prize in the latest globe-spanning competition. You may also have witnessed Anthony removing his false front teeth from time to time — like when he had to dive for pearls in Bora Bora. Since he plans to resume his sports career, Anthony wears a partial denture to fill the gap in his classic "hockey mouth." He has said that when he finally hangs up his skates, he will use some of his Amazing Race prize money to get new, permanent teeth. When it's time to get that new smile, Anthony, like many people, will have to choose between two good options for permanent tooth replacement.
The preferred option for most people is dental implants. In this system, tiny titanium posts substitute for the root part of your missing tooth (or teeth). These are placed beneath your gum line in a minor surgical procedure we perform right here at the dental office. The amazing thing about dental implants is that they actually fuse to your jawbone, allowing your replacement teeth to last a lifetime.
The titanium implant itself is not visible in the mouth; the part of an implant tooth that you see is the lifelike crown. Virtually indistinguishable from your natural teeth, the crown is attached to the implant above the gum line. Dental implants can be used to replace a single tooth, multiple teeth, or even all your teeth. You don't necessarily need one implant for every tooth because implants can support bridgework or even a complete set of prosthetic teeth.
The second-best option is a natural-tooth fixed bridge. In this system, we use healthy natural teeth on either side of the empty space left by a missing tooth (or teeth) as supports for one or more of the prosthetic teeth that will fill the gap. The downside is that in order to turn these healthy teeth into supports (which are referred to in dentistry as "abutments"), we need to remove some enamel and then cap them. This procedure can leave those teeth more prone to decay than they were before. But with regular dental exams and good oral hygiene on your part, bridgework can last many years.
Which system is right for you? That's a question we would be happy to help you determine... even if you haven't won a large jackpot or gone pearl diving in Bora Bora. If you've been looking forward to the day when you can have permanent replacement teeth, why wait? Contact us or schedule an appointment for a consultation. We will help you find your ideal solution to the problem of missing teeth! For more information, please see the Dear Doctor magazine articles "Dental Implants vs. Bridgework" and "Dental Implants: Your Third Set of Teeth."
By Northside Family Dentistry
June 14, 2013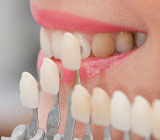 Dental professionals sometimes use specialized words, and you may not be clear about exactly what we mean. Test yourself on some of the specialized vocabulary concerning tooth whitening. How many of the following can you define correctly?
1. Bleaching?
A method of making yellow, discolored teeth whiter. It is relatively inexpensive and safe, with few side effects.
2. External or extrinsic staining and whitening?
Extrinsic staining mainly results from diet and smoking. For example, foods such as red wine, coffee and tea can produce extrinsic stain. Teeth with these stains are bleached by placing whitening substance in direct contact with the living tooth surface.
3. Internal or intrinsic staining and whitening?
Intrinsic tooth discoloration is caused by changes in the structure of enamel, dentin, or pulp tissue deep within the root of the tooth. When the discoloration originates with the pulp tissue, root canal treatment may be needed to whiten the tooth from the inside.
4. Chromogenic material?
Color generating material that may get incorporated into the tooth's substance. It can be a result of wear and aging, or can be caused by inflammation within the tooth's pulp.
5. Carbamide Peroxide?
A bleaching agent discovered in the 1960s and frequently used for tooth whitening. When used, carbamide peroxide breaks into its component parts, hydrogen peroxide and urea, which bleach the colored organic molecules that have been incorporated between the crystals of the tooth's enamel.
6. Power Bleaching?
This technique is used for severely stained tooth. It uses a highly concentrated peroxide (35 to 45 percent) solution placed directly on the teeth, often activated by a heat or light source. This must be done in our office.
7. Tetracycline?
An antibiotic used to fight bacterial infections. It can result in tooth staining when taken by children whose teeth are still developing.
8. Rubber Dam?
Use of strong bleaching solutions requires protection for the gums and other sensitive tissues in your mouth. This is done using a rubber dam, a barrier to prevent the material from reaching your gums and the skin inside your mouth. Silicone and protective gels may also be used.
9. Whitening Strips?
Strips resembling band-aids that you can use in your home to whiten your teeth. They generally contain a solution of 10 percent or less carbamide peroxide gel. When using them, be sure to read the directions and follow them strictly to avoid injury or irritation.
10. Fade Rate?
The effects of bleaching may fade over time, from six months to two years. This is called the fade rate. It can be slowed down by avoiding habits such as smoking, along with food or drink that causes tooth staining.
Contact us today to schedule an appointment to discuss your questions about tooth whitening. You can also learn more by reading the Dear Doctor magazine article, "Teeth Whitening."