Posts for: September, 2013
By Northside Family Dentistry
September 23, 2013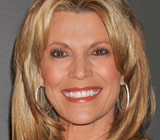 As the co-host of one of America's most beloved television game shows, Wheel of Fortune, Vanna White is recognized for her beautiful gowns and her dazzling smile. However, during an exclusive interview with Dear Doctor magazine, she shared her experiences with cosmetic dentistry. "I had a bridge put in probably 30 years ago where I had a tooth pulled and there was a space," Vanna said.
Prior to having a permanent tooth pulled, most people are concerned with what can be done to replace it. It's important to follow through and do exactly that. This is especially true with back teeth. Just because you can't see them, it doesn't mean you won't face problems if they are not replaced.
For example, did you know that missing posterior (back) teeth can lead to a wide array or problems with the remaining teeth, muscles, ligaments, joints and jaw bones? This includes:
A decrease in chewing efficiency that in turn can impact your diet, nutrition and overall health
Excessive erosion or wear of remaining teeth
Tipping, migration, rotation and even loss of adjacent remaining teeth
Painful jaw problems such as Temporomandibular Dysfunction (TMD)
One treatment option is to follow in Vanna's footsteps and consider a fixed bridge. This is an excellent option when dental implants won't work. And through our artistry, we can easily blend them in color and appearance with your surrounding teeth.
When implants are possible, they represent the best option. They are easily maintained and are a durable, long-lasting solution that can increase bite support.
To learn more about this topic, continue reading the Dear Doctor magazine article "Replacing Back Teeth." Or if you are already missing a permanent tooth, you can contact us today to schedule an appointment so that we can conduct a thorough examination. We will also address any questions you have as well as your treatment options. And if you want to read the entire feature article on Vanna White, continue reading "Vanna White."
By Northside Family Dentistry
September 13, 2013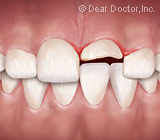 One went over the handlebars of his mountain bike. Another got an elbow going for a lay-up. For a third, it was that tricky maneuver on her new snowboard...
These are just a few of the ways that kids' teeth can be injured. (No doubt, parents can think of plenty more.) The good news is that modern dentistry offers more options than ever for treating the injury and restoring the appearance and function of the teeth.
Teeth that are fractured or dislodged are a serious condition that requires immediate, comprehensive treatment. The majority of dental injuries, however, are less severe: most often, they involve chipped teeth. If chips occur in the upper front teeth — as some 80% of dental injuries do — even small flaws can have a big affect on the appearance. And, especially in the teenage years, appearance can mean everything.
In many cases, small chips in the teeth can be repaired effectively using a procedure called "bonding." In this treatment, we use a tooth-colored material made by mixing a plastic matrix and a glass-like filler, which provides adequate strength and aesthetic qualities similar to the natural teeth. In fact, this composite material can be matched to an individual's tooth color so accurately that it's hard to notice any difference.
Composite resins can be successfully bonded to most healthy teeth — and they offer some advantages over other restoration methods, particularly for children and teenagers. The bonding procedure avoids making tiny "undercuts" in the natural substance of the tooth, while metal fillings need to "lock in" to the tooth's structure. This means that bondings generally require less tooth preparation, which usually makes bonding a quick and relatively easy method of restoration.
It's true that, over time, some bonded restorations may not stand up to the tremendous biting forces of the jaw as well as porcelain restorations — but in young people whose permanent teeth have large pulp (nerve) chambers, the removal of too much tooth structure could compromise the long-term health of the tooth. Later on, we can look at performing a different type of restoration.
If you have questions about cosmetic bonding or sports-related dental injuries, please contact us or schedule an appointment for a consultation. You can learn more in the Dear Doctor magazine articles "Repairing Chipped Teeth" and "An Introduction to Sports Injuries & Dentistry."