Posts for: October, 2013
By Northside Family Dentistry
October 30, 2013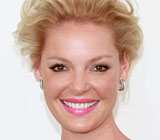 Many adults these days are opting for clear aligners to correct orthodontic problems that have long bothered them. Katherine Heigl is a perfect example. She had one tooth that was out of alignment, and wanted to have it fixed before her wedding day.
"I got them [clear aligners] because of this wonky tooth," Heigl told In Style magazine not long ago. "It's awesome because every two weeks you switch to a new retainer. Pretty much the perfect way to describe Invisalign is Netflix for your teeth."
That's actually a pretty good way to describe this highly user-friendly form of orthodontic treatment. Clear aligners are transparent, plastic oral appliances that are changed every two weeks so that your teeth can be moved a little bit at a time, according to a carefully staged sequence. Though they cover your teeth completely, clear aligners are barely noticeable.
In fact, when Heigl excused herself before taking out her aligners to eat, her In Style interviewer said, "Who knew you wore them? I guess that's the point of Invisalign."
Being able to remove the aligners for eating and, more importantly, teeth-cleaning, is another major advantage of this method of straightening teeth. Successful orthodontic treatment for adults depends on good periodontal health ("peri" – around; "odont" – tooth), and the best way to keep your gums and the underlying bone that supports your teeth healthy is to keep up an effective daily oral hygiene routine.
Clear aligners have been improved in recent years to correct more complicated malocclusions ("mal" – bad; "occlusion" – bite) than previously; they can even work well for teenagers. But there are still some cases that call for traditional braces. We would be happy to explore all the different options for orthodontic treatment with you, whether you have crowded teeth, an overbite or underbite, or just one "wonky tooth."
If you would like more information about clear aligners, please contact us or schedule an appointment for a consultation. You can also learn more about clear aligners in general by reading the Dear Doctor magazine article "Clear Aligners For Teenagers." Dear Doctor also has more on "Wedding Day Smiles."
By Northside Family Dentistry
October 15, 2013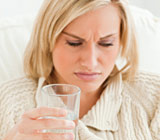 If you wince while eating certain foods and beverages, you're not alone — one in three Americans suffer from the pain of tooth sensitivity. Fortunately, there are ways to treat it and reduce the pain.
Dentinal hypersensitivity occurs when dentin loses its protective cover. Dentin, a living tissue within a tooth, is composed of tiny tubules that act as conduits for transmitting sensations from the surface of the tooth to the nerves in the inner pulp. These tubules are protected by cementum, a hard, outer layer that covers the tooth root. But when the root becomes exposed, the cementum is easily stripped from the root. The tubules become more sensitive to sensations of temperature or pressure.
Receding gums are the main culprit for root exposure. This condition can result from periodontal disease, which arises mainly from poor oral hygiene. At the other end of the spectrum, over-aggressive brushing can lead to receding gums. Brushing may also contribute to another source of dentinal hypersensitivity: enamel erosion. The minerals in enamel begin to soften and erode as the acidic level of the mouth rises. Saliva neutralizes the acid and can restore a neutral balance in about thirty minutes to an hour after eating. If you brush before this process completes, you could brush away some of the softened enamel.
To properly treat tooth sensitivity, our first step is to find the cause. If it stems from improper or premature brushing, we can counsel you on proper technique. If periodontal disease is a factor, we would first treat the disease and then work with you on a proper oral hygiene regimen to reduce bacterial plaque, the main cause of the infection.
There are treatments as well to reduce nerve sensitivity and thereby ease the pain. Toothpastes and other mouth products with fluoride help reduce sensitivity, as well as products containing potassium nitrate or potassium citrate. We can also apply a varnish containing a concentrated dose of fluoride directly to tooth surfaces. Another approach is to block the tubules using bonding agents or sealants; this will reduce their capacity to receive and transmit sensations.
If you would like more information on the causes and treatment of tooth sensitivity, please contact us or schedule an appointment for a consultation. You can also learn more about this topic by reading the Dear Doctor magazine article "Treatment of Tooth Sensitivity."