Posts for: November, 2013
By Northside Family Dentistry
November 25, 2013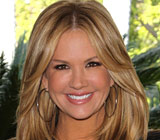 When it comes to sensitive gums during pregnancy, Nancy O'Dell, the former co-anchor of Access Hollywood and new co-anchor of Entertainment Tonight, can speak from her own experience. In an interview with Dear Doctor magazine, she described the gum sensitivity she developed when pregnant with her daughter, Ashby. She said her dentist diagnosed her with pregnancy gingivitis, a condition that occurs during pregnancy and is the result of hormonal changes that increases blood flow to the gums. And based on her own experiences, Nancy shares this advice with mothers-to-be: use a softer bristled toothbrush, a gentle flossing and brushing technique and mild salt water rinses.
Before we continue we must share one important fact: our goal here is not to scare mothers-to-be, but rather to educate them on some of the common, real-world conditions that can occur during pregnancy. This is why we urge all mothers-to-be to contact us to schedule an appointment for a thorough examination as soon as they know they are pregnant to determine if any special dental care is necessary.
Periodontal (gum) disease can impact anyone; however, during pregnancy the tiny blood vessels of the gum tissues can become dilated (widened) in response to the elevated hormone levels of which progesterone is one example. This, in turn, causes the gum tissues to become more susceptible to the effects of plaque bacteria and their toxins. The warning signs of periodontal disease and pregnancy gingivitis include: swelling, redness, bleeding and sensitivity of the gum tissues. It is quite common during the second to eighth months of pregnancy.
Early gum disease, if left untreated, can progress to destructive periodontitis, which causes inflammation and infection of the supporting structures of the teeth. This can result in the eventual loss of teeth — again, if left untreated. Furthermore, there have been a variety of studies that show a positive link between preterm delivery and the presence of gum disease. There has also been a link between an increased rate of pre-eclampsia (high blood pressure during pregnancy) and periodontal disease. Researchers feel this suggests that periodontal disease may cause stress to the blood vessels of the mother, placenta and fetus.
To learn more about this topic, continue reading the Dear Doctor magazine article "Pregnancy and Oral Health." And if you want to read the entire feature article on Nancy O'Dell, continue reading "Nancy O'Dell."
By Northside Family Dentistry
November 15, 2013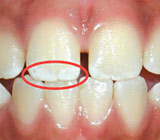 It's indisputable that fluoride has revolutionized dental care. Decades of research have overwhelming shown this natural, enamel-strengthening chemical has decreased tooth decay.
Too much fluoride, though, can cause enamel fluorosis, a permanent staining of tooth enamel. In its mildest form, the teeth develop faint whitish streaks; in more severe cases, the staining is noticeably darker and the teeth appear pitted. The teeth themselves aren't damaged, but the unsightly staining could require cosmetic treatment. Children under age 9 (when permanent teeth enamel matures) are especially at risk of fluorosis due to over-fluoridation.
Because of fluoride's prevalence in hygiene products and many drinking water supplies, it's not always easy to know if your child is receiving too much. There are two areas, though, that bear watching.
First, you should limit the serving quantity of fluoride hygiene products, particularly toothpaste. Children tend to swallow rather than spit out toothpaste after brushing, so they ingest more fluoride. We recommend a small "smear" of toothpaste on the brush for children under two, and a pea-sized amount for children two to four.
The other concern is your drinking water. Three-quarters of America's water systems add fluoride, usually to a recommended level of 0.70 PPM (parts per million). To know if your water supply adds fluoride and at what levels, you can contact your local water utility or health department, or check the Center for Disease Control's website for their "My Water's Fluoride" program (http://apps.nccd.cdc.gov/MWF/Index.asp). This site will have information if your water system participates in the program.
If your area exceeds recommended levels or is at high risk for fluorosis, we recommend reducing the use of tap water in infant formula. Besides breast-feeding (human breast milk is low in fluoride), you can use either ready-to-feed formula, or mix powdered formula with water specifically labeled "de-ionized," "purified," "de-mineralized," or "distilled."
One thing you should not do is eliminate your use of products containing fluoride — this may increase your child's risk of tooth decay. The consequences of decay can be serious and have a life-long effect — and far outweigh the risks of fluorosis staining.
If you would like more information on fluoride and your infant, please contact us or schedule an appointment for a consultation. You can also learn more about this topic by reading the Dear Doctor magazine article "Tooth Development and Infant Formula."