Posts for: December, 2013
By Northside Family Dentistry
December 24, 2013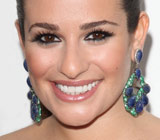 Not long ago, Glee star Lea Michele had all of her wisdom teeth removed. This is a very common procedure that people in their twenties, like Michele, often undergo to prevent serious dental problems down the road. The actress found that the procedure really was actually not very difficult to tolerate.
"Feeling all better from my surgery!" she tweeted to fans a few days later. "Back to work tomorrow."
Why do wisdom teeth so often cause problems? For one thing, they come in years later than the other 28 permanent teeth — usually between the ages of 17 and 25. By that time, there is often no room in the jaw to accommodate them. As man has evolved, the jaws have actually become smaller in size — often creating a lack of space for the wisdom teeth to erupt into proper position. If wisdom teeth become blocked (impacted) by other molars that are already there, infection and damage to neighboring teeth may result.
Sometimes the wisdom teeth themselves cause the problem by growing in at an odd angle. They push against other teeth, often compromising the adjacent tooth's supporting bone. While you would think pain would occur if any of these problems were present, that does not always alert us to a wisdom-tooth problem. It's usually diagnosed with the help of x-rays.
Wisdom tooth extraction is often performed in the dental office using a local anesthetic (numbing shot) to keep you from experiencing any pain, along with conscious sedation to help you relax. The type of anesthesia that's best for you will be determined before the procedure.
After we gently remove the tooth or teeth, you may need to have the site sutured (stitched) to promote healing. You will rest for a short time before going home, and may need to have someone drive you, depending on what type of anesthesia you were given.
Once you get home, you should apply an ice pack on the outside of your cheek for about five minutes on, five minutes off for as many hours as possible to help reduce any postoperative swelling on the first day. Starting on the second day, the warm moist heat of a washcloth placed on the cheek and hot salt water rinses will make you more comfortable. You may want to eat soft foods and brush your teeth very carefully during the recovery period, which lasts only a few days as Lea Michele discovered. Before you know it, you'll be "feeling all better!"
If you have any questions about wisdom teeth, please contact us or schedule an appointment for a consultation. You can learn more by reading the Dear Doctor magazine article "Wisdom Teeth."
By Northside Family Dentistry
December 10, 2013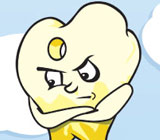 When do you think is the earliest age that tooth decay can start? Would you be surprised to learn that the answer is… just two months!
In spite of our best efforts, throughout the world tooth decay remains the most common chronic disease of childhood. And the unfortunate truth is, it's largely preventable. Tooth decay is caused by harmful bacteria living in the mouth. These bacteria produce acids as a byproduct of feeding on the sugar we consume. The acids attack the hard enamel surfaces of the teeth, eventually making the small holes we know as cavities.
For thousands of years, these bacteria have been thriving in the carbohydrate-rich environment of our mouths. Kids aren't born with these germs — often, however, they are passed directly from caregiver to child. But there are things you can do to keep from passing the bacteria to your children. For example, don't share toothbrushes; don't put items in baby's mouth after you have licked them or put them in yours; and, if you have untreated dental disease, try to avoid kissing the baby's lips. (And for goodness sake, don't pre-chew a baby's food, no matter what any celebrity may suggest.)
One effective way to control tooth decay is by reducing the amount of sugar in the diet. Sodas and candy aren't the only culprits — fruit juices are also high in sugar. And remember, it's not just what your child eats or drinks that matters, but when they consume it. Given time, saliva will neutralize and wash away the acids that bacteria produce. But if kids are constantly taking in sugar, the saliva can't keep up. So give those little teeth a break — limit sugar to mealtimes, and avoid sweet treats at other times of day.
What other steps can you take to stop tooth decay before it starts? It helps to identify kids who may be more susceptible to dental disease. Given the same diet with the same oral hygiene practices, some children are much more likely than others to develop tooth decay. If these high-risk kids receive preventive treatments — such as fluoride varnishes, help with diet modification, and other measures — early tooth decay can be successfully prevented, and even reversed in some cases.
If you're concerned that dental treatment may be too scary for little ones, you should know that we put a great deal of effort into making office visits as stress-free as possible. We have plenty of tricks to keep youngsters happy — and distracted — while we take care of business. You can help too… by maintaining a positive outlook and setting a good example.
If you would like more information about cavity prevention for children, please contact us or schedule an appointment. You can learn more in the Dear Doctor magazine article "Taking the Stress Out of Dentistry for Kids."