Posts for: February, 2015
By Northside Family Dentistry
February 27, 2015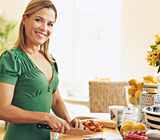 Junk food and between-meal sweets are a habit for many of us, even though we know it is bad for our bodies and our teeth. As adults, we are responsible for our own choices. As parents, we are also responsible for our children's choices, and for teaching them to choose wisely.
Celebrity Chef Cat Cora offers the following six suggestions for leading children to a healthy lifestyle. Cora is a star of Iron Chef America and author of Cat Cora's Classics with a Twist: Fresh Takes on Favorite Dishes, in which she reveals healthier versions of classic recipes. In her remakes she shows how to cook with a lot of flavor while reducing fat and sugar. Cora has four young sons, so her methods are not just theories — they have been practiced in real life.
1. Remember who's the boss.
"My kids have never had fast food," Cora said in a recent interview with Dear Doctor magazine. "The parents have a choice to do that or not," she said. "The kids are not going to the grocery store to shop; the kids are not driving themselves through fast food chains."
2. Make your rules clear and stick to them.
"Right now my 7-year-old tries to be picky, but it's really about us being consistent as parents," Cat said. For example, in her household pizza is served only at the weekly pizza and movie night. The kids get a healthier version of what they want, so they don't feel deprived. The evening includes air-popped popcorn without butter — and no soda, which is bad for teeth because of its sugar and other chemical ingredients.
3. Offer your children a variety of foods and tastes.
Cora made sure her children tried different foods and spices from infancy, so they are open to trying new things. It's easier to get all the nutrition you need if you eat a wide variety of foods.
4. Learn to make tasty substitutions for sugar.
When her children were babies, Cora stopped relying on bottles and sippy cups as soon as possible, reducing her children's likelihood of developing tooth decay due to sugary residues remaining in their mouths. Now that they are older, she uses tasty substitutes for sugar such as fruit purees and the natural sugar substitute Stevia.
5. Include the children in meal planning.
Kids are more likely to eat a meal they are involved in planning and cooking. For example, ask them which vegetable they would like to have (not whether they want to have a vegetable).
6. Model healthy behavior for your kids.
Parents are the best role models. This is true not only for food choices, but also for exercise and maintaining a healthy lifestyle.
Contact us today to schedule an appointment to discuss your questions about oral health. You can also learn more by reading the Dear Doctor magazine article "Cat Cora."
By Northside Family Dentistry
February 12, 2015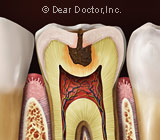 Dental decay is an infectious and very common disease, but it's also very preventable. Today's dentistry has many tools at its disposal to accurately determine your risk for tooth decay, lower it, turn it around, and completely prevent it. What's more, we can even reverse early decay. You might never have to see or hear the drill again.
Striking the right balance between factors that promote oral health and those that cause disease is of the utmost importance. And knowing whether or not you have indicators of disease or risk for tooth decay is a great place to start.
We will scientifically calculate your risk for tooth decay by:
Recording and monitoring your oral and dental health: Our risk assessment/evaluation form allows us to gather information about critical dental health habits. Oral hygiene habits, use of fluoride toothpaste, tobacco smoking, frequent snacking on sugary foods and beverages, and past experience of decay are all examples of disease indicators that will help gauge your level of risk. For example, using fluoride toothpaste decreases your risk, but smoking and between-meal snacking increases it.
Testing for decay producing bacteria: You've probably heard of dental bacterial plaque, the biofilm that sticks to your teeth, forming in the tiny little grooves on the biting surfaces of the teeth where decay starts (and along the gum line). Today, acid-producing bacteria responsible for causing decay can be tested by simply sampling your biofilm on a swab, and placing it in a meter to accurately determine acid-producing activity. A high number indicates high risk. You can see it for yourself in less than a minute.
Saliva testing: A simple history will tell us whether your mouth is dry or moist most of the time. A saliva test will tell us if your saliva is acidic or neutral. A dry acidic mouth promotes decay, while a moist neutral mouth with healthy saliva promotes health. Measuring salivary "pH," the measure of acidity, is another factor for determining your risk for decay and reversing it. Special rinses can help reduce decay-producing bacteria and reduce acidity.
Very early decay detection: Modern ultra-low-dosage x-ray equipment allows us to determine the very earliest signs of decay. Decay that is detectable with the naked eye (or feel with a dentist's instrument, an explorer) is already at an advanced stage. Catching the disease very early with the help of this sophisticated equipment can allow us to reverse early decay before it has even turned into cavities. It can actually be reversed with remineralizing fluids, rinses that put calcium back into the tooth surfaces reforming and hardening them.
This is a new and exciting era in the fight against tooth decay and we have all the tools to determine your decay risk and reverse it.
If you would like us to determine your risk for tooth decay, please call the office to schedule an appointment. To read more about disease indicators and risk factors for dental caries, read the Dear Doctor magazine article "Tooth Decay: How To Assess Your Risk."