Posts for: October, 2017
By Northside Family Dentistry
October 29, 2017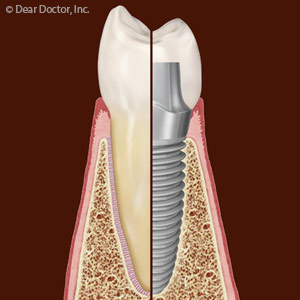 Dental implants have become the standard for long-term tooth replacement. From mechanics to movie stars, people from all walks of life have discovered the advantages of replacing a missing tooth with an implant. Obviously, restoring your smile is a definite advantage, but an implant can also help to maintain the health of your jawbone and adjacent teeth.
The implant is a small, screw-like titanium post that is placed into your jawbone to function as the root part of the tooth. The living bone tissue will actually attach to the titanium post, fusing them together. This will not only provide a sturdy anchor for a natural-looking crown, but will provide stability for bridgework or dentures. You will then be able to smile, chew and talk as if all of your teeth are natural. The procedure will also help to stabilize the bone, reducing long-term bone loss that occurs when a missing tooth is not replaced.
At this point, if you are thinking that there must be a lot of pain involved, I have good news for you. There is very little pain involved after the procedure is completed and no pain at all during the procedure. Typically, it is a routine surgery that takes place in a dentist's office under local anesthesia where the immediate area is numbed. If there is any apprehension at all about the procedure, we will offer alternative anesthesia or sedation options during the planning process.
To determine who will be a good candidate for the implant procedure, a plan must be in place to assure the success of the implant. Part of the plan includes:
Reviewing your past medical and dental history. We must know your complete past and present medical history and medication use, since good health is essential. There are certain conditions and diseases that can affect the healing of an implant.
Performing a comprehensive dental examination. An evaluation of your dental problems and needs will determine if implants are in your best interests. An assessment of the health and mass of the jawbone as well as the number and location of the implant(s) that are needed to restore your bite and smile back to health will also be determined.
When the implant procedure has been successfully completed, there is one more step. As with your natural teeth, preventive maintenance is crucial for long-term success. A daily routine of brushing and flossing along with regular professional dental cleanings and checkups will help ensure continued gum health and proper functioning of your implants.
If you are wondering whether dental implants are right for you, contact us for more information or schedule an appointment for a consultation. You can also learn more about dental implants by reading the Dear Doctor magazine articles "Dental Implants" and "Dental Implant Surgery."
By Northside Family Dentistry
October 14, 2017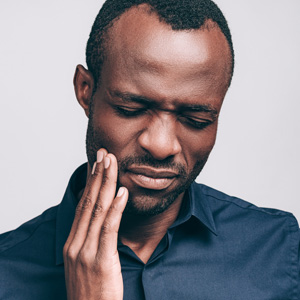 Your teeth and gums have a highly sensitive network of nerves. But while it can signal even the most subtle discomfort we may not be able to identify the cause with pinpoint accuracy. As a result, tooth pain could indicate more than one kind of problem including a decayed tooth, root sensitivity, infected gum tissues (like an abscess) or a dying pulp signaled by diseased nerve tissue inside the tooth.
On the other hand, not all tooth pain is the same: it can be dull or sharp, continuous or intermittent. It can feel like a constant, throbbing ache or a sharp wince when you eat or drink something cold or hot, or when you bite down. These differences could point our diagnostic examination in the right direction.
For example, sharp, throbbing pain could indicate deep tooth decay, especially if it suddenly stops. That would likely mean the nerves within the tooth pulp under attack by the infection have died and can no longer transmit pain. The infection, on the other hand is still very much active — this usually requires a root canal treatment (cleaning out the pulp and root canals of diseased and dead tissue and filling the empty spaces) if we're to save the tooth.
If, however, you're experiencing sensitivity from temperature or pressure, we could be facing at least a couple of scenarios. For one, your tooth could be fractured. More likely, though, periodontal (gum) disease triggered by bacterial plaque has caused the gum tissues to shrink back (recede) from the affected teeth so that the sensitive dentin layer is exposed and no longer protected by the gum tissue.
If we diagnose gum disease, we'll need to aggressively remove bacterial plaque from all tooth and gum surfaces. This procedure might require more than one appointment and the possibility of surgery if we encounter deep pockets of infection, especially around the roots. If gum recession is severe you may also need grafting surgery to replace the missing gum tissue or to re-cover the exposed areas of your teeth.
So, knowing the source of tooth pain will direct the course of treatment to follow. With proper treatment, though, the chances are good we can not only restore your teeth and gums to optimum health but we can end the pain.
If you would like more information on treating tooth pain, please contact us or schedule an appointment for a consultation. You can also learn more about this topic by reading the Dear Doctor magazine article "Confusing Tooth Pain."