Posts for: December, 2017
By Northside Family Dentistry
December 21, 2017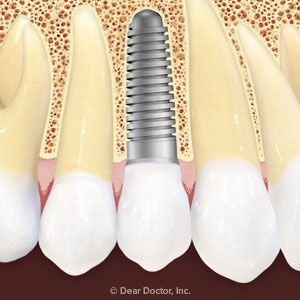 What's so special about dental implants — and why should you consider one to replace a missing tooth?
Although they've only been widely available for thirty years, dental implants have climbed to the top of tooth replacement choices as the premier restorative option. Since their debut in the 1980s, dentists have placed over 3 million implants.
There's one overriding reason for this popularity: in structure and form, dental implants are the closest replacement we have to a natural tooth. In fact, more than anything else an implant is a root replacement, the part of the tooth you don't see.
The artificial root is a titanium post surgically imbedded into the jaw bone. Later we can attach a porcelain crown to it that looks just like a visible tooth. This breakthrough design enables implants to handle the normal biting forces generated in the mouth for many years.
There's also an advantage in using titanium dental implants. Because bone cells have a special affinity to the metal, they will grow and attach to the implant over time. Not only does this strengthen the implant's hold within the jaw, the added growth also helps deter bone loss, a common problem with missing teeth.
It's this blend of strength and durability that gives implants the highest success rate for any tooth replacement option. Over 95% of implants placed attain the 10-year mark, and most will last for decades.
Dental implant treatment, however, may not be possible in every situation, particularly where significant bone loss has occurred. They're also relatively expensive, although more cost-effective than other options over the long term.
Even so, implants can play an effective and varied role in a dental restoration. While single implants with attached crowns are the most common type of replacement, they can also play a supporting role with other restorative options. As few as two strategically placed implants can provide a more secure connection for removable dentures or fixed bridges.
You'll need to first undergo a thorough dental examination to see if implants could work for you. From there, we'll be happy to discuss your options for using this "best of the best" restoration to achieve a new, beautiful smile.
If you would like more information on dental implants, please contact us or schedule an appointment for a consultation. You can also learn more about this topic by reading the Dear Doctor magazine article "Dental Implants 101."
By Northside Family Dentistry
December 06, 2017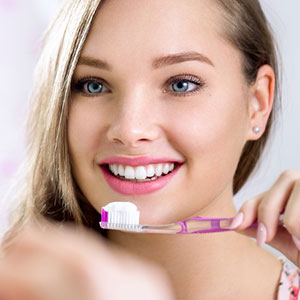 It's a big transition when your child enters college — for both of you. You may find "cutting the apron strings" a little rocky at times.
But like most parents, you'll soon condense what you still want your college kid to do down to a few major habits and choices. Be sure to keep health, diet and lifestyle choices on that list, areas which could have the most effect on their long-term health and well-being.
That should include dental care. Hopefully, they've already developed good hygiene habits like daily brushing and flossing and regular dental visits. But, on their own now, they're faced with other choices that could affect their dental health.
For example, eating a balanced, nutritious diet is necessary for a healthy mouth. That includes limiting sugar intake, especially when snacking. Disease-causing oral bacteria thrive on carbohydrates like sugar. These bacteria also secrete acid, which at consistently high levels can erode tooth enamel.
Tobacco smoking and excessive alcohol affect teeth and gums because both can inhibit secretion of saliva. Besides containing antibodies that fight infection, saliva also neutralizes mouth acid. A dry mouth caused by these habits, could put their mouth at higher risk for disease.
Your college student might also be influenced by the fashion of their peers to display piercings. Mouth piercings with lip or tongue hardware in particular can damage teeth. The constant movement and friction erodes enamel or may even cause a tooth fracture. If possible, try to steer them to self-expression that poses less risk to their dental health.
There's one other area that, believe it or not, could impact dental health: sex. While each family handles this particular subject differently, be sure your child knows that some forms of sexual activity increase the risk for contracting the human papilloma virus (HPV16). Among its many destructive outcomes, HPV16 profoundly raises the risk of oral cancer, a rare but deadly disease with a poor survival rate.
Going from home to college is a big step for a young person — and their parents. As a parent, you can help steer them to practice good habits and make wise choices that will protect their lives and health and, in particular, their teeth and gums.
If you would like more information on helping your college student maintain their dental health, please contact us or schedule an appointment for a consultation. You can also learn more about this topic by reading the Dear Doctor magazine article "10 Health Tips for College Students."