Posts for tag: dental injury
By Northside Family Dentistry
March 14, 2018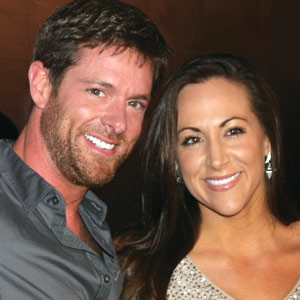 For anyone else, having a tooth accidentally knocked out while practicing a dance routine would be a very big deal. But not for Dancing With The Stars contestant Noah Galloway. Galloway, an Iraq War veteran and a double amputee, took a kick to the face from his partner during a recent practice session, which knocked out a front tooth. As his horrified partner looked on, Galloway picked the missing tooth up from the floor, rinsed out his mouth, and quickly assessed his injury. "No big deal," he told a cameraman capturing the scene.
Of course, not everyone would have the training — or the presence of mind — to do what Galloway did in that situation. But if you're facing a serious dental trauma, such as a knocked out tooth, minutes count. Would you know what to do under those circumstances? Here's a basic guide.
If a permanent tooth is completely knocked out of its socket, you need to act quickly. Once the injured person is stable, recover the tooth and gently clean it with water — but avoid grasping it by its roots! Next, if possible, place the tooth back in its socket in the jaw, making sure it is facing the correct way. Hold it in place with a damp cloth or gauze, and rush to the dental office, or to the emergency room if it's after hours or if there appear to be other injuries.
If it isn't possible to put the tooth back, you can place it between the cheek and gum, or in a plastic bag with the patient's saliva, or in the special tooth-preserving liquid found in some first-aid kits. Either way, the sooner medical attention is received, the better the chances that the tooth can be saved.
When a tooth is loosened or displaced but not knocked out, you should receive dental attention within six hours of the accident. In the meantime, you can rinse the mouth with water and take over-the-counter anti-inflammatory medication (such as ibuprofen) to ease pain. A cold pack temporarily applied to the outside of the face can also help relieve discomfort.
When teeth are broken or chipped, you have up to 12 hours to get dental treatment. Follow the guidelines above for pain relief, but don't forget to come in to the office even if the pain isn't severe. Of course, if you experience bleeding that can't be controlled after five minutes, dizziness, loss of consciousness or intense pain, seek emergency medical help right away.
And as for Noah Galloway:Â  In an interview a few days later, he showed off his new smile, with the temporary bridge his dentist provided… and he even continued to dance with the same partner!
If you would like more information about dental trauma, please contact us or schedule an appointment for a consultation. You can learn more in the Dear Doctor magazine articles "Trauma & Nerve Damage to Teeth" and "The Field-Side Guide to Dental Injuries."
By Northside Family Dentistry
August 30, 2017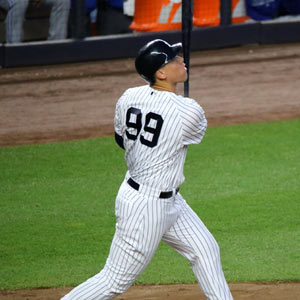 Major league baseball player Aaron Judge made news in July by breaking Joe DiMaggio's record for most home runs scored by a New York Yankees rookie. Then he made news again, this time for breaking something else. Following their game-winning home run against the Tampa Bay Rays in the 11th inning, the Yanks met for a spontaneous victory celebration at home plate. It was all fun and games… until an errant helmet accidentally slammed into Judge's mouth, breaking off half his left front tooth. Ouch!
Even if you're not playing big-league baseball, accidents sometimes happen. So what's the best dental treatment if you chip or break a tooth? It all depends on how much is broken off.
When a tooth has a small chip in it, dental bonding may be sufficient. Layering on tooth-colored bonding material results in a natural look, and it can be completed in one dental visit. However, bonding material in time will discolor, and it is not as strong as real tooth structure, so eventually it may need re-treatment.
Dental veneers or crowns may be used to restore more seriously damaged teeth. Veneers, thin porcelain shells that cover the front surface of teeth, can be used to restore minor to moderate chips. A crown ("cap") is used when the damage is greater and more structural support is required. A crown replaces the visible part of the tooth above the gum line.
When the soft pulp tissue inside the tooth is damaged, root canal treatment will be needed to save the tooth. Despite the outdated rumors some people have heard, root canal procedures don't cause pain — they actually relieve it. During the procedure, exposed or infected pulp is removed and the inside of the tooth is sealed. Then a lifelike crown is placed so the tooth looks as good as new.
If the tooth cannot be saved — for example, it breaks off below the gum line — a dental implant may be your best option. Dental implants are small titanium posts that are surgically inserted and then capped with an artificial crown. Implant-supported teeth can last a lifetime and are usually indistinguishable from natural teeth.
So what happened with Judge's tooth? Thanks to a Friday morning visit to the dentist, he was smiling again with a temporary crown — and smiling over the fact that his tooth garnered more attention than the Yankees' dramatic 11th inning win.
If you have questions about cosmetically-pleasing tooth restorations, please contact our office or schedule a consultation. (If you have a dental injury, call us immediately!) You can learn more in the Dear Doctor magazine articles "Dental Implants" and "A Step-by-Step Guide to Root Canal Treatment."
By Northside Family Dentistry
September 13, 2013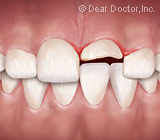 One went over the handlebars of his mountain bike. Another got an elbow going for a lay-up. For a third, it was that tricky maneuver on her new snowboard...
These are just a few of the ways that kids' teeth can be injured. (No doubt, parents can think of plenty more.) The good news is that modern dentistry offers more options than ever for treating the injury and restoring the appearance and function of the teeth.
Teeth that are fractured or dislodged are a serious condition that requires immediate, comprehensive treatment. The majority of dental injuries, however, are less severe: most often, they involve chipped teeth. If chips occur in the upper front teeth — as some 80% of dental injuries do — even small flaws can have a big affect on the appearance. And, especially in the teenage years, appearance can mean everything.
In many cases, small chips in the teeth can be repaired effectively using a procedure called "bonding." In this treatment, we use a tooth-colored material made by mixing a plastic matrix and a glass-like filler, which provides adequate strength and aesthetic qualities similar to the natural teeth. In fact, this composite material can be matched to an individual's tooth color so accurately that it's hard to notice any difference.
Composite resins can be successfully bonded to most healthy teeth — and they offer some advantages over other restoration methods, particularly for children and teenagers. The bonding procedure avoids making tiny "undercuts" in the natural substance of the tooth, while metal fillings need to "lock in" to the tooth's structure. This means that bondings generally require less tooth preparation, which usually makes bonding a quick and relatively easy method of restoration.
It's true that, over time, some bonded restorations may not stand up to the tremendous biting forces of the jaw as well as porcelain restorations — but in young people whose permanent teeth have large pulp (nerve) chambers, the removal of too much tooth structure could compromise the long-term health of the tooth. Later on, we can look at performing a different type of restoration.
If you have questions about cosmetic bonding or sports-related dental injuries, please contact us or schedule an appointment for a consultation. You can learn more in the Dear Doctor magazine articles "Repairing Chipped Teeth" and "An Introduction to Sports Injuries & Dentistry."