Posts for tag: fluoride
By Northside Family Dentistry
August 15, 2017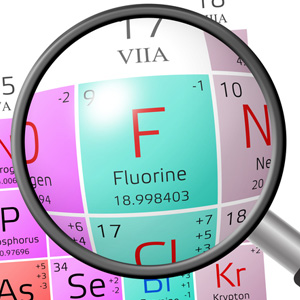 In the early 1900s, a Colorado dentist noticed his patients had fewer cavities than the norm. He soon found the cause: naturally occurring fluoride in their drinking water. That discovery led to what is now heralded as one of the most important public health measures of the last century — the use of fluoride to prevent tooth decay.
While you're most likely familiar with fluoride toothpaste and other fluoridated hygiene products, there are other sources of this chemical you should know about — especially if you're trying to manage your family's fluoride intake. Here are 3 of these common sources for fluoride.
Fluoridated drinking water. Roughly three-quarters of U.S. water utilities add fluoride to their drinking water supply under regulations governed by the Environmental Protection Agency. The federal government currently recommends 0.7 milligrams of fluoride per liter of water as the optimum balance of maximum protection from tooth decay and minimal risk of a type of tooth staining called dental fluorosis. You can contact your local water service to find out if they add fluoride and how much.
Processed and natural foods. Many processed food manufacturers use fluoridated water in their processes. Although not always indicated on the packaging, there are often traces of fluoride in cereals, canned soups, fruit juices or soda. Many varieties of seafood naturally contain high levels of fluoride and infant formula reconstituted with fluoridated water can exceed the level of fluoride in breast or cow's milk. Beer and wine drinkers may also consume significant levels of fluoride with their favorite adult beverage, particularly Zinfandel, Chardonnay or Cabernet Sauvignon wines.
Clinical prevention measures. As part of a child's regular dental treatment, dentists may apply topical fluoride to developing teeth, especially for children deemed at high risk for tooth decay. This additional fluoride can be applied in various forms including rinses, gels or varnishes. The additional fluoride helps strengthen a child's developing enamel and tooth roots.
How much fluoride your family ingests depends on a number of factors like your drinking water, food purchases and dental hygiene products and procedures. If you have any concerns about how much fluoride you're encountering in your daily life, please be sure and discuss them with your dentist.
If you would like more information on fluoride's benefits for dental health, please contact us or schedule an appointment for a consultation. You can also learn more about this topic by reading the Dear Doctor magazine article "Fluoride & Fluoridation in Dentistry."
By Northside Family Dentistry
November 15, 2013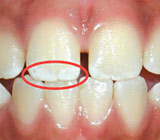 It's indisputable that fluoride has revolutionized dental care. Decades of research have overwhelming shown this natural, enamel-strengthening chemical has decreased tooth decay.
Too much fluoride, though, can cause enamel fluorosis, a permanent staining of tooth enamel. In its mildest form, the teeth develop faint whitish streaks; in more severe cases, the staining is noticeably darker and the teeth appear pitted. The teeth themselves aren't damaged, but the unsightly staining could require cosmetic treatment. Children under age 9 (when permanent teeth enamel matures) are especially at risk of fluorosis due to over-fluoridation.
Because of fluoride's prevalence in hygiene products and many drinking water supplies, it's not always easy to know if your child is receiving too much. There are two areas, though, that bear watching.
First, you should limit the serving quantity of fluoride hygiene products, particularly toothpaste. Children tend to swallow rather than spit out toothpaste after brushing, so they ingest more fluoride. We recommend a small "smear" of toothpaste on the brush for children under two, and a pea-sized amount for children two to four.
The other concern is your drinking water. Three-quarters of America's water systems add fluoride, usually to a recommended level of 0.70 PPM (parts per million). To know if your water supply adds fluoride and at what levels, you can contact your local water utility or health department, or check the Center for Disease Control's website for their "My Water's Fluoride" program (http://apps.nccd.cdc.gov/MWF/Index.asp). This site will have information if your water system participates in the program.
If your area exceeds recommended levels or is at high risk for fluorosis, we recommend reducing the use of tap water in infant formula. Besides breast-feeding (human breast milk is low in fluoride), you can use either ready-to-feed formula, or mix powdered formula with water specifically labeled "de-ionized," "purified," "de-mineralized," or "distilled."
One thing you should not do is eliminate your use of products containing fluoride — this may increase your child's risk of tooth decay. The consequences of decay can be serious and have a life-long effect — and far outweigh the risks of fluorosis staining.
If you would like more information on fluoride and your infant, please contact us or schedule an appointment for a consultation. You can also learn more about this topic by reading the Dear Doctor magazine article "Tooth Development and Infant Formula."
By Northside Family Dentistry
February 27, 2013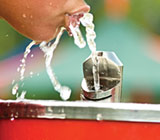 Guidelines regarding the concentration of fluoride in water have recently been changed by the US Government's Department of Health and Human Services (HHS) and the Environmental Protection Agency (EPA). These agencies recommended a reduction of fluoride in water supplies to 0.7mg/L, modifying the original recommendations provided in 1962 by the US Public Health Service.
What is fluoride, and why add it to water supplies?
Fluoride is a chemical form of fluorine, a naturally occurring element. For decades, scientists have carried out studies on the effects of fluoride in water, and they have proved that fluoride strengthens tooth surfaces and makes them resistant to decay. A fluoride concentration of about one milligram per liter (1 mg/L), or 1 part per million (1ppm), in the water supply is associated with substantially fewer cavities. This concentration of fluoride (equivalent to a grain of salt in a gallon of water) has been found to have no negative health effects.
The Center for Disease Control (CDC) says that fluoridated water is one of the ten most effective public health measures of the 20th Century. The optimal amount of fluoride necessary to make teeth resistant to decay turns out to be between 0.7 and 1.20 milligrams per liter (mg/L). A certain amount of fluoride occurs naturally in water supplies, and communities have added fluoride to bring the amount up to the optimal recommendations.
How does fluoride you drink get into your teeth?
The fluoride you drink in your water is deposited in your bones. Bone is an active living substance that is constantly broken down and rebuilt as a normal body process. As this happens the fluoride is released into the blood, from which it can enter the saliva and act on the tooth surface.
What about fluoride from other sources?
Americans now have access to many sources of fluoride in addition to the water they drink. These include foods, beverages and toothpaste. As a result, dentists have begun to notice an increased prevalence of a condition known as Dental Fluorosis.
What is Dental Fluorosis?
Dental Fluorosis can occur when teeth, particularly in children, receive too much fluoride. This condition is a mottling or uneven staining of the tooth surface enamel. There may be small white spots or extensive brownish discolorations. The mottled enamel is still resistant to decay, but it may be unattractive in appearance.
What is the idea behind the new guidelines?
With the new guidelines, fluoride is kept at the lower end of the scale of the optimal concentration for strengthening teeth against decay. At this end, there is room to add consumption of fluoride from other sources such as foods or toothpaste. In short, it is the best of both worlds.
Contact us today to schedule an appointment to discuss your questions about fluoride. You can learn more by reading the Dear Doctor magazine articles "Fluoride & Fluoridation in Dentistry" and "New Fluoride Recommendations."