Posts for category: Uncategorized
By Northside Family Dentistry
March 09, 2015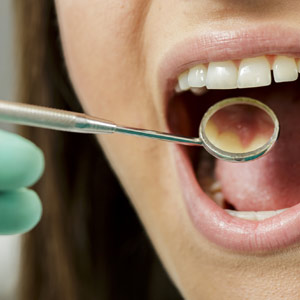 Most everyone knows that going to see your dentist for regular checkups and cleanings can help save your smile — but did you ever stop to think that it just might save your life?
That's what recently happened to 11-year-old Journee Woodard of Edmond, Oklahoma. The young girl was having a routine teeth cleaning when hygienist Rachel Stroble noticed something unusual: The whites of her eyes (her sclera) had a distinctly yellow tint. Dr. Michael Chandler, Journee's dentist, confirmed the hygienist's suspicions, and advised her mom to take her for further testing. The tests revealed that Journee had a tumor covering parts of her pancreas, gallbladder and liver; it could have ruptured at any moment, with devastating consequences.
The tumor was removed three days later in a 9-hour operation, and Journee is now recovering. As for her dentist, Dr. Chandler told reporters that he and his staff were just doing their jobs thoroughly. "It's hard to feel like I'm a hero," he said (though others might disagree).
Is this a one-in-a-million case? Maybe — yet for many people, a family dentist may be the health care professional who is seen more often than any other. That can put dentists in the unique position of being able to closely monitor not only a person's oral health, but also their overall health.
There are several reasons why that's so. One is that most systemic diseases (such as diabetes, leukemia, and heart disease, for example) can have oral manifestations — that is, symptoms that show up in the mouth. If your dentist notices something unusual, further testing may be recommended. Dentists also regularly screen for diseases specific to the mouth — such as oral cancer, which has a much better chance of being cured when it is caught at an early stage.
But beyond checking for particular diseases, dentists often notice other things that may indicate a health issue. For example, if you complain of dry mouth or snoring, and appear fatigued in the dental chair, your dentist may suspect undiagnosed sleep apnea: a potentially serious condition. Many other signs — such as yellowed eyes, a pounding heart rate, or shortness of breath — can indicate potential problems.
Of course, we're not even mentioning the main reason for regular dental checkups — keeping your smile healthy and bright; for many people that's reason enough. How does Journee's mom feel about keeping dental appointments? "I will never miss another dentist appointment," she told reporters. "I will never reschedule."
If you would like more information about routine dental checkups, please contact us or schedule an appointment. You can learn more by reading the Dear Doctor magazine articles "The Dental Hygiene Visit" and "Good Oral Health Leads to Better Health Overall."
By Northside Family Dentistry
January 30, 2015
What Are My Orthodontic Treatment Options?
Your dentist has recommended that you consider dental realignment for you or your child. You likely have some questions, particularly what kind of treatment is needed. There are several orthodontic options that your Macon dentist provides. Here is a brief overview:
Braces
Used to straighten teeth since the time of Ancient Greece, braces are the quintessential orthodontic treatment. Brackets are
affixed to the surface of the teeth using a bonding material, then wires are threaded through the brackets and attached to bands on the back molars. The pressure works to slightly loosen the teeth and gradually move them in the desired direction. As the teeth move, the wires must be adjusted by Dr. Watson. Traditional metal braces are made from stainless steel or titanium, while "clear" braces are typically ceramic or plastic.
Clear aligner trays
These appliances are the preferred method for those who have mild crowding or spacing problems. Removable plastic trays designed to fit directly over the teeth are worn for up to 20 hours a day and refitted at various intervals. They are less noticeable than braces, but their success relies largely on the patient's cooperation and maintenance.
Extraction
If overcrowding is a major concern, removing teeth may help to create the extra space needed in the mouth. This practice was much more common for children in years past, but because extracting teeth while the facial bones are still developing can create further problems, it is now primarily used on adults. Visit our extractions page to learn more!
Functional orthopedics
These devices are typically utilized for children and younger teens, as they are designed to help modify the continuing growth of facial bones that support teeth. In cases of overbites, metal twin block appliances are used to bring the lower jaw forward to meet the protruding upper jaw. These are also used to widen both the upper and lower jaws in order to accommodate incoming adult teeth.
Removable appliances
For more severe bite problems, headgear attachments for braces is sometimes recommended. It works by applying pressure to the upper jaw to slow or completely stop its growth. Retainers are also used to maintain alignment after the teeth have been straightened. Although these appliances are removable, it is important to wear them exactly as prescribed by Dr. Watson to ensure the best outcome.
Although most orthodontic procedures are done to improve the aesthetic appearance of a person's teeth, some problems may be so severe that eating and talking are afflicted. Thorough consultation at Northside Family Dentistry will help you determine which orthodontic procedure is best for your unique situation.
Whether you are an existing patient or searching for a dentist in the Macon, GA area, we're excited you are here. With the dental industry advancing, we recognize the importance of keeping our patients and visitors up to date with all of the new and exciting things taking place in our practice.
As we move forward with our blog, we hope to promote dental awareness as a vital part of your healthy lifestyle. Here you will find a variety of articles and topics including dental news, advancements in dental technology and treatment, practical dental health advice and updates from Dr. Watson and his staff.

We hope you find our blog to be helpful, engaging and informational to ensure your best dental health.

As always, feel free to contact us with any dental questions or concerns.